Story
Our Doctors Are Racing Against the Clock
In the face of conflict, wars, disease outbreaks, natural disasters, and much more, our medical teams are risking their lives to bring hope and healing to those who have nowhere else to turn. But we can't do it alone.
In times of crisis, heroes emerge. Right now, we need YOU to be that hero. With your support, Médecins Sans Frontières/Doctors Without Borders (MSF) is on the front lines in Gaza and other places around the world providing critical medical aid to those in the most vulnerable and dangerous situations.
With your help, we can continue to be there when it matters most. Together, we can make a lasting impact and provide a lifeline to those in desperate need.
How is MSF Responding in Gaza?
During the first days of the conflict, MSF donated medicines and medical equipment to the main hospitals in the Gaza Strip. We have also sent surgical teams to two hospitals to help treat the wounded. We have also set up a clinic in downtown Gaza city for people with injuries. Despite the severe escalation of events, MSF local staff decided to keep providing surgical and inpatient care in Al-Awda hospital and Al Shifa hospital in northern Gaza. In the West Bank, MSF teams are present and are providing medical assistance in the cities of Jenin, Jerusalem, Hebron, Nablus, Qalqilya, and Tukaram.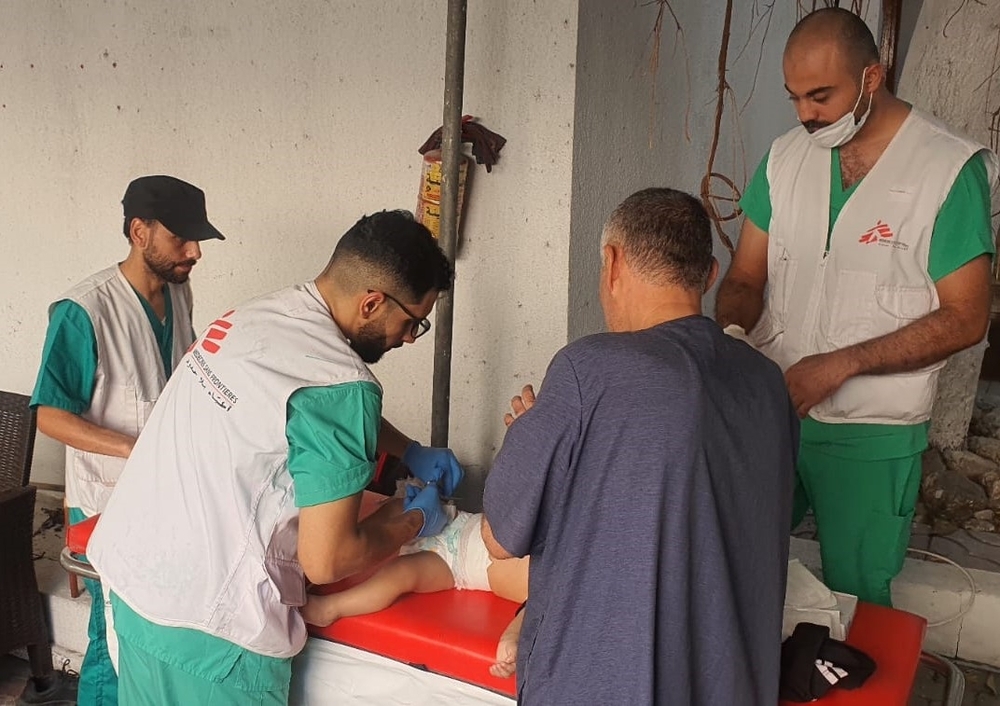 MSF medical staff apply a dressing to a young child at the MSF Burns Clinic in central Gaza after he suffered from severe burns in an airstrike.
Dr. Christos Christou, International President of Doctors Without Borders/Médecins Sans Frontières (MSF), speaks about the situation in Gaza.
updates
No results have been found